Yoohay - I have been

mentioned in another craft blog

. Oh, I am so chuffed, especially as it is in the

mightily creative Beckie

's blog infarrantly creative, a blog that I have been following almost since the day that I started blogging myself. Beckie is an avid blogger who has fantastic ideas and great style. Well, that's a pretty personal opinion, but anyway, I like what she publishes in her blog. And I absolutely love her idea of the

"Roadkill Rescue Party"

- a kind of crafts competition where crafters are encouraged to revamp or rework a piece of junk which they have acquired for free, possibly from the roadside.

Check out her blog yourself

: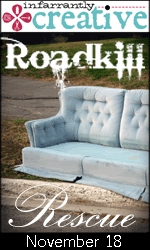 Her last project has been

handmade paper beads

- and she credits me for the inspiration. Remember - I blogged about my security envelope beads
here
. They really are easy to do, so go ahead and

try it yourself!
Oh: And a

big thank you to Beckie

for the credit and the link!!!