While making over my blog the other day, somehow the new template I used ignored my previous geeky additions. And so I discovered with dismay, that
my pride and joy- the favicon - had vanished
. Oh no! So I had to do a bit of housekeeping and
re-launch my little badge of geekiness
. Took me a little bit of time and effort to restore the scissors into the code, but I managed - not least with the help of my own post on the topic *haha*. Click
HERE
if you want to learn how to distinguish your blog with a favicon.
And while I am at it, there is another little housekeeping item. I am happy to announce that my modest little project on
lavender wardrobe fresheners
was
featured on Stephanie's Under the Table and Dreaming
blog. *yay* Another button for my list on the left proudly displayed.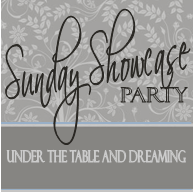 If you haven't yet discovered Under the Table and Dreaming, then take the opportunity and
check the blog now
. Stephanie hosts a blog linking party every Sunday - a treasure trove of cute and original ideas.
Ok, off now to think up some new ideas...
Best,